It is

November 9 2010 00:00 UTC

This message will be displayed if the timer does not show up (like if you do not have javascript enabled on your browser)

days until Call of Duty: Black Ops is released!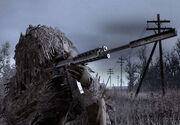 Welcome to The CoD Snipers Haven Wiki
This wiki was created witht the intent of bringing gaming snipers and In Real Life (refered to as IRL) weapons together in one place. The emphasis is on the Call Of Duty Games, and then real life info. Here you can discuss the weapons characteristics with the games weapons characteristics. Discussions and photos of game weapons and real life weapons can be posted. This excludes pictures made at pimpmygun.doctornoob.com. as a lot of these can be quite hideous and not practical at all.
Snipers Are Not Campers
This is the place for all Snipers to hang out and contribute articles and ideas concerning Sniping and Call of Duty in general. Feel free to add articles that you see fit. In Real Life (IRL) Articles are permitted here since that is not allowed on the Call of Duty wiki. BTW, camping is just another form of gameplay and not to be criticized, to each his own.
Wiki Rules
The rules are simple.
Do not flame bait.
Do not vandalize.
Treat other users with respect. Anything to the contrary will result in a block.
Do not delete Talk Page Discussions, Article info, Forum Discussions, etc. unless its vandalism.
DO NOT POST PORNOGRAPHY OR LINKS TO PORNOGRAPHY!
Minimum user age is 13 yrs or older.
Always act maturely.
Do not use vulgar language.
Do not spam or Troll.
If you upload Images please make sure you apply the proper Licensing or it maybe removed.
Always sign any messages to other users. It's discourteous not signing your messages!
Do not post images made at pimpmygun.doctornoob.com.
We have no time to be baby-sitting people that act like losers or morons.
Failure to abide by these rules will get the offender blocked for unreasonable amounts of time!
Repeat offenders will be blocked indefinitely.
Behave and you will not have anything to worry about!