M40
[[Image:

|[defaults to 250]px]]
M40

Manufacturer

Marine Corps Base Quantico

First Produced

1966

Country Of Origin

United States

Type

Bolt-Action

Caliber

7.62 × 51 mm NATO

Max. Effective Range

800 meters

Weight

6.57 kg (14.48 lb)

Length

1,117 mm (43.97 in)

Date of Production

1966–present

Variants

N/A
The M40 is a bolt-action, 7.62x51 NATO sniper rifle that is the current service sniper rifle in the United States Marine Corps. It first debuted during the Vietnam War. The current incarnation, the M40A5 features a detachable magazine and a threaded barrel to allow for sound suppressors or other muzzle devices. It entered service in 2009.
Production
Edit
Each M40 begins its life as a Model 700 and is modified by Marine Gunsmiths in Quantico, Virginia. M40A1s are being modified to be M40A3s.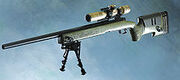 Ad blocker interference detected!
Wikia is a free-to-use site that makes money from advertising. We have a modified experience for viewers using ad blockers

Wikia is not accessible if you've made further modifications. Remove the custom ad blocker rule(s) and the page will load as expected.